In general, Somali women are the backbone of the lives of millions of Somalis. With the collapse of the central government, Somali women stood up for the creation of businesses and livelihoods for their families and communities. Small businesses have played a significant role in providing for families, wealth creation, education development, and economic growth of the whole country.
Technology and internet businesses are uncommon territory for Somali women, but Engineer Sahra Abdikarin has ventured into creating one of the largest hosting and website management services companies in Somalia, a company that builds websites for companies, local organizations, the government, international organizations, and charitable organizations.
Sahro has worked hard for this company and it has finally paid off. So, this is the story of the successful journey of engineer Sahra. Sahro Abdikarim Ibrahim was born and raised in Mogadishu, the capital of Somalia. After graduating from Ahmed Gurey High School, she moved to Sana'a, Yemen to continue her university education there. Sahro, a very active and intelligent girl, joined the University of Science and Technology in Sana'a, Yemen, with a Bachelor's Degree in Information Technology. Sahro graduated from university in 2005.
A year after graduating from Sana'a University of Science and Technology in Yemen, she returned to Somalia to establish this business which became a large technology company. In Somalia, at that time she was starting the business, the environment was difficult to invest in technology, particularly it was difficult for a woman to take up the idea. In setting up the company, and expanding services that did not exist before in the country, Sahro has come a long way, facing a number of challenges, including insecurity, negative perceptions of such businesses, and negative prejudice about women's ability to create a successful IT business.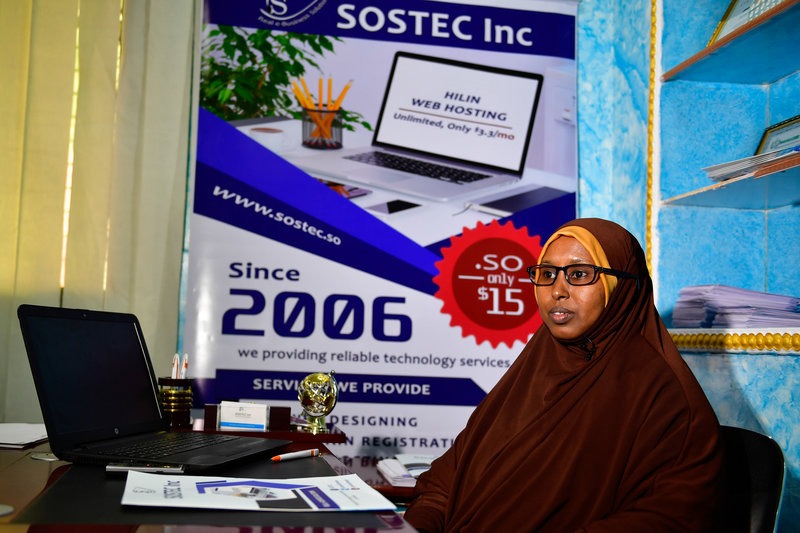 Sahro was a mother of four children at that time, she did not give up hope for her creativity, and her main ambition was to make a difference, and to become a mother with her own business. She was perseverant and showed effort, sacrifice, and commitment to her dream. She insisted on implementing what was on her mind and prepared to face any challenges which comes her way.
Sahro founded Somali Software and Technology Company (SOSTEC) in 2006. She rented a small office and started with one computer. At first, she was alone the only one employed at the company, then engaged with a small group of women. She felt she would be in the middle of a male-dominated market, especially in technology where women are not many. "I knew in the beginning that I was going into a male-dominated business, but that didn't stop me from investing in that area," Sahro recalls.
Within a few years, Sahra's company has grown into one of the largest technology service providers in Somalia. The company has done some work in the major cities of the country including Mogadishu, Hargeisa, and Baidoa. She has also developed a system called "Bilan Codes" that teaches girls free coding or how to create computer-based apps and mobile apps. Sahra's initiative, which has gone through some critical moments has now become fruitful. The company now employs more than 20 young professionals and offers a wide range of technology services such as web hosting and design, live streaming, database, and information technology (IT) training.
It also provides services such as establishing computer programs for businesses and health centers that conduct their work online such as accounting and administration. Sahra's business is not only for-profit but also works closely with schools and colleges to select and train future technology professionals. Sahro believes that young people have a strong potential for change.
Sahro continues to plan for the future of SOSTEC, and would like to expand its specialized technology services. "In this area, finding equipment to carry out the work is very difficult and expensive," she said. "We would like to include our services graphic design and printing, but buying high-quality equipment is not an easy task and should be considered as an alternative." Sahro believes that hard work and a solid academic background are the keys to success. "I urge young people, especially young women, to focus on education," Sahro added. "I came in second in my class, when I was a student at the university. I wanted to excel in any field of study and so it was possible for me. Women can be pilots, computer professionals, doctors anything is possible for them."
Finally, Eng. Sahro is an award-winning technology entrepreneur, educator, mother, and software developer. She is a trailblazer for women in the field of Technology. She is a living example of how Somali women are creative, hardworking, and ambitious. She exemplifies the commitment of Somali women to the welfare of their families and communities and their incredible contribution to their country.