She was born in Mogadishu where she grew up in her childhood, but the circumstances did not allow her to remain in her hometown, and the displacement caused her to become part of the thousands of refugees Somalis who were scattered around the world. She left the country in 1991, when she was a young girl, she became a refugee in a camp in Kenya, where she lived for 7 years a difficult life as a refugee. Luckily for her, she left Kenya seven years later and went to Europe, eventually settling in the Netherlands. She started a new life in the country she emigrated to, she resumed her education, studied dermatology, and taking advantage of the knowledge she gained which very few Somali women had, she decided to work in her field in the Netherlands.
This is the story of Warsan Abdullahi Yusuf, a diaspora woman who returned to the country with her family and started a new business in the country. Warsan lives and works in Bossaso and Qardho, and she is the owner of a cosmetics company called WARSAN AND WAXSAN. "Personally, I am open-minded, not shy about working with and socializing with the community I live in, so I decided to study this subject to get closer to a wider community," said Warsan Abdullahi.
After completing her education, and returning to the country in 2018, Warsan took the initiative to create a small business in her native Somali community which is now thriving. "I have not received support from banks or donors. I started this business idea at a very low level and I believe it is growing and has good future as a business" Warsan said.
At first, she opened a small shop where she sold her products made at home. Warsan and Waxsan production business, which is growing day by day, now consists of two shops and has created jobs for several youths who were unemployed. Businesses of this nature are not many in this area of the country, and Warsan's business idea is unique in specializing in the production of cosmetics in the country.  Warsan operates in Puntland, where the name "Puntland" means the land of the "Udug" which means aromatic plants and myrrh which grow densely in this area, and is used to produce different perfumes and cosmetics such as natural oils, which are often sold in the Arabian peninsula.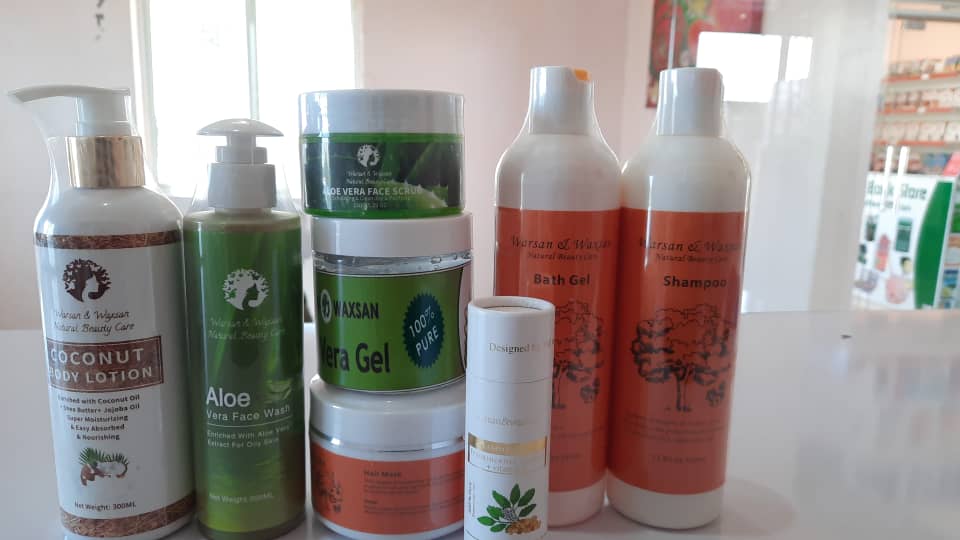 "Incense is a plant that is not widely known for its skin health benefits. I make products such as oils, and lotions that both men and women use," said Warsan. Apart from the company's cosmetic products, Warsan's company also produces oil made from flaxseed oil, peanut oil, curcumin, and cucumber products traditionally used by women. She also manufactures other cosmetic products whose ingredients are imported from outside the country.
Every innovation has its own set of challenges and opportunities. At the initial stages of the business, people were skeptical of the quality of her products, they believed that the packaged products imported from outside were of superior quality to locally manufactures products.
As a result of those challenges, in the first year of her business, she was unable to hire employees, so Warsan did the production and also the sales of the products at her only shop then, she remembers "It was not easy for me to hire employees, because I was not able to pay them, I did the work all by myself the first year. I never gave up. I have persevered despite the circumstances". In the second year, she hired one employee, and after that, the business grew, and she hired more staff, so now the business employs four people as they operate in both the cities of Bossaso and Qardho.
Warsan did not stop there, she has a contract with an international cosmetics company to which she lent her brand name and they produce in partnership products including creams, lotions, oils, hair products, facial, and skin. "I have given brand rights to a company abroad. It also produces a variety of products with my brand, also I import products and then I pack and distribute them, in addition to the products which are locally manufactured from homegrown aromatic plants", Warsan reiterates.
Every idea and business has its purpose and vision, Warsan, who is currently the sole owner of the company aims to be the biggest manufacturer of cosmetic products in Somalia in the foreseeable future. Warsan states "I really want to contribute to the growth of the country's economy, by ensuring the company makes products which are manufactured locally because that helps employ my fellow citizens"
Such a vision and commitment to the growth of the country and the welfare of its citizen is what makes unique the sacrifices and contributions of Somali women to their communities and country.